There are many reasons why you might be in the market for a hand massager. You may have arthritis or carpal tunnel syndrome, or maybe you just want to avoid future problems with these conditions. Whatever the case may be, there are plenty of great choices out there for you to choose from when it comes to hand massagers. 
This blog article will discuss the benefits of massage and how hand massagers work for arthritis and carpal tunnel syndrome. We will also go through some of our favorite hand massager models to assist you in deciding which massager suits your needs!
So, how does it work? Well, a hand massager works by using vibrations to relax your hand muscles. Some massaging machines even offer deep tissue percussive therapy and soothe aching muscles beneath the skin. The end goal is that these hand massagers help relieve any hand pain you may be experiencing and help prevent future pain as well.
It can also create a soothing effect since a massage can trigger not just one but four (to be exact) happy hormones. Happy hormones are signaling molecules that are naturally produced by our glands. They are released into our bloodstream, then travel to different areas in our bodies, acting as messengers, and play important roles in pleasurable sensations or satisfaction (hence, the term).
Going into detail, studies say that a massage can induce the increase of the following hormones in the bloodstream: dopamine, endorphins, serotonin, and oxytocin. Each works differently, but in general, they work to reduce pain and stress and induce a sense of well-being and relaxation. 
Do Hand Massagers Help Carpal Tunnel?
Whether hand massagers work for carpal tunnel or arthritis is still up for debate. There haven't been too many studies done on whether these devices actually work specifically for carpal tunnel syndrome or arthritis.
What we do know is that they can send pulses and waves of vibration directly into your hand or other joints to cause relaxation. The same effect can be achieved with hand exercise, although it takes much longer. After all, hand massagers are equipment meant for relaxation, and the strengthening of the hand muscles is secondary.
It's worth noting that hand massagers are not a replacement for carpal tunnel medications prescribed by your doctor by any means.
Still, if you want to experience some immediate relief from stress or pain, hand massagers may prove to be an invaluable tool in your quest for quick pain relief! 
Benefits of a Hand Massager
The following are the top five reasons why you should get a hand massager machine or schedule a hand massage session: 
1. It can help reduce hand pain.
You can use a hand massage to ease pain in a variety of ways, depending on the cause or origin of hand discomfort. If utilized correctly, they might aid as pain relievers.
Depending on the built and features of the hand massager, pain relief can be achieved through the use of technology, including vibration, heat, and compression. 
2. It helps improve hand strength and flexibility.
Massaging the hand can help increase grip strength because hand muscles receive better blood circulation – which means your hand muscles always have the fuel to give you a firm grip. In addition, hand massage stimulates the nerves in your hands, which increases hand dexterity and flexibility. 
3. Massages boost energy levels and boost moods through touch/stimulation therapy. 
In Japan, people consider hand massages as a form of rejuvenating therapy for their stimulating properties. A simple hand massage session has been found effective at increasing concentration and performance levels.
Massaged hand muscles send pleasure signals (hormones) to the brain, which boosts mood levels and helps combat depression. 
4. It stimulates blood circulation.
A massage can help bring nutrients such as oxygen to the tissues of the hands by stimulating the circulation of blood in the area to keep the cells working. It can also speed up their healing process since blood contains white blood cells and other substances that fight infection. 
5. A hand massage can help facilitate drainage from fluid accumulation and reduce swelling.
A massage can help decrease swelling in the hands caused by fluid accumulation due to injury or chronic conditions that affect the hands, such as arthritis, diabetes, and carpal tunnel syndrome.
These are just some of the many hand health benefits that hand massagers, in general, can provide. In short, hand massagers are becoming popular because they do wonders! 
7 Best Hand Massagers for Pain Relief
Our hands are always at the mercy of our jobs. Whether we are typing, cooking, or playing an instrument, they take a beating from their use and can often lead to discomfort and pain.
With so many choices out there for hand massagers, it's hard to know which one will work best for you.
If you're looking for a way to reduce your pain, here are 7 hand massagers that are perfect for getting the job done. They vary in size and intensity, so read on to find which one will be just right for you! 
1. iRelieve Hand & Wrist Massager
This hand and wrist massager has three interchangeable heads that allow you to vary your experience. It's small enough to fit into almost any handbag, so it's great for traveling. 
The iRelieve hand and wrist massager also comes with a comfortable grip handle, making it easier on your hand muscles while you relax. The intensity levels are adjustable, so you can use the power that feels right for your hand pain relief needs. 
2. Lunix LX3 Cordless Electric Hand Massager with Compression
This hand massager has a strong vibration and is cordless. It includes adjustable heat and compression settings. The hand massager is fairly small, so it's great for travel or to keep in your purse when you're on the go.
One of the best features of Lunix LX3 Cordless Electric Hand Massager with Compression is that it comes with a lithium-ion rechargeable battery, so there are no cords attached, which makes this hand massager easy to use whenever and wherever you feel pain relief needs. 
3. CINCOM Rechargeable Hand Massager with Heat for Women
CINCOM's Cordless Hand Massager with Heat is designed for women and can provide soothing heat to keep your hands warm and damp. It aids in the reduction of dryness and dehydration while also enhancing grip strength via air compression and kneading massage.
Both heat and vibration settings are included in this hand massager. It's light and rechargeable, making it ideal for use at home, the office, or on the road.
4. Comfier Rechargeable Heated Hand Massager, Hand Massage Tool with Compression & Heating
A heat-based hand massager effectively relieves carpal tunnel, arthritis, and finger aches. Luckily, the Comfier hand massager machine uses air compression massage and heat to pamper your hands and work on the fingertips and knuckles to provide deep relaxation.
It also has sequential pulsation air cells that rhythmically pressurize the whole hand from finger to palm and wrist. It has three Preprogrammed modes and three intensity levels for customization.
In addition, The Comfier cordless hand massager tool features a built-in Lithium-Ion battery that never needs to be replaced and is rechargeable via a USB cable and adaptor. It's simple to use and transport so that you can get a hand massage at home, at the workplace, or on the road. Simply use the touch screen control panel to satisfy your specific massage needs. 
5. iVOLCONN Hand Massager with Heat for Arthritis and Carpal Tunnel
iVOLCONN IN-006H Hand Massager features 3 automatic massage modes, and three intensities with professional massage techniques and methods are optional.
It also has different timer options to shut off the device after a massage session automatically. But you can press the power button to turn off the machine at any time.
It provides some heat and relief by compressing your hand firmly while stretching the nerves and fingers out. It's small and lightweight, and it comes with a two-year warranty. It is powered by a rechargeable lithium-ion battery that works with a USB cable or an AC adapter. You may use it at home, in the office, and even on vacations. 
6. Breo iPalm520 Electric Acupressure Palm Hand Finger Massager  
The iPalm520 massager is the only hand massager of its kind. Infrared heat technology provides soothing, cushioned heat that helps rub away stress and aches. Intelligent (air pressure)proprietary technology rubs muscles with an adaptive rhythm that can be customized to suit your preference.
The Breo iPalm520 Electric Acupressure Palm Hand Finger Massager is a simple hand warmer designed to be an integral part of your daily routine. With both heat compress and independent function options, you can choose what best suits your needs at the time. Whether you're working on an ergonomic device or massaging lotion into sore muscles after tennis practice, this product's versatility is impressive. And with built-in overheat protection features, users don't have to worry about being scalded while using it. Keep skin healthy by using the included gloves while handling the machine for easy cleaning. This item makes a great gift for family members or co-workers that are constantly on their phones during breaks from work! 
7. RENPHO Cordless Hand Massager Machine
The Renpho hand massager set includes three main functions: compression massage, heat, and vibration--all perfect for getting relief at home.
It offers a slow, soothing heat treatment to the palm, which aids in the stimulation of blood flow to reduce irritation and coldness. Using the vibration setting is beneficial in relaxing and calming a tight, overused hand muscles.
Here's a note, though: The heating-up procedure may take a long time; but, no need to worry because this is a security precaution to avoid skin burns. After turning the device on, you will need approximately 2-3 minutes before noticing a significant temperature change. 
This massager is also is excellent for improving wrist mobility since the electric hand massager applies compression to the entire hand in a rhythmic fashion.
The pressure points inside the palm massager are carefully positioned to target the wrist, palm, and fingers acupressure spots.
As added features, it also has six different heads and various intensities. This portable massager comes with adjustable massage settings (modes), and pressure amounts to help you relax.  After 15 minutes of massage, the massager automatically shuts off for safety reasons.
Tip: It is advisable to start with the lowest setting when using the hand massager and see whether it relaxes your hands before increasing the intensity. 
Not only does this hand massager feel good, but it also comes with a rechargeable 2000 mAh lithium-ion battery, so you can take it anywhere without being tied down by cords! Simply charge it in 2 to 3 hours with the included charging cable for a full charge.
Runner-ups:  
It is not always easy to pick a hand massager that will suit your needs with just 7 options, so here are the massagers that did not make it to the top 7 but are still good hand massagers for carpal tunnel and arthritis. See the runner-ups below: 
This lightweight hand massager is an excellent choice if you want to hit those tight muscles around your elbows or right in between your fingers or the bones in your hand.
It has six interchangeable massage tips so you can target specific areas or massage your hand in general with this hand massager. This one comes with a rechargeable Lithium-ion battery (1800 mAh) and a charging cable.
This hand massager is constructed of high-quality materials and helps alleviate tension, stress, and pain in the hands. 
Breo WOWO S Cordless Hand Massager
This amazing little gadget allows you to pamper your hands when you need it. The Breo WOWOS Cordless Hand Massager was created to provide the same health benefits as reflexology and acupressure. 
It uses air pressure and heat treatment to give a relaxing yet comprehensive massage, which helps enhance blood flow, increase mobility, reduce pain, and restore hand flexibility. The optional smart app also allows you to customize your massage regimen! Additionally, if you want to use hand lotions, Breo comes with plastic gloves so you can use the cream without leaving residue inside the massage machine. 
The Theragun Smart Percussion Therapy Device puts the most important features first while maintaining the power and effectiveness of Theragun's deep muscle therapy. In seconds, ease discomfort, reduce muscle strain and tightness and speed up recovery. 
It works not only for arthritis on the hands but also for the elbows and other joints. It is also great for hand fatigue, hand pain, hand cramps, and hand spasms. The benefits of the Theragun Smart Percussion Therapy Device are endless! 
Lunix LX7 Cordless Electric Hand Massager
Instead of using the traditional rolling technique, this massager applies adjustable pressure to the hand and wrist to help soothe the tense muscles. It offers four levels of massage types and intensity, as well as combines vibration, compression, and gentle warmth of around 104°F, perfect for relaxation. 
The soft interior cushion ensures complete comfort, and the stylish, minimalist design is also pleasing to the eye, which means you can place it on a bookshelf or on top of a table to fit in with any style of decor or office workstation.
Since it is powered by a rechargeable battery, it can be charged and used for a couple of hours without the need for cords or outlets. 
Belmint Cordless Electric Hand Massager
The Belmint Deluxe Hand Massager can help alleviate finger numbness and joint discomfort, as well as pain caused by arthritis or carpal tunnel.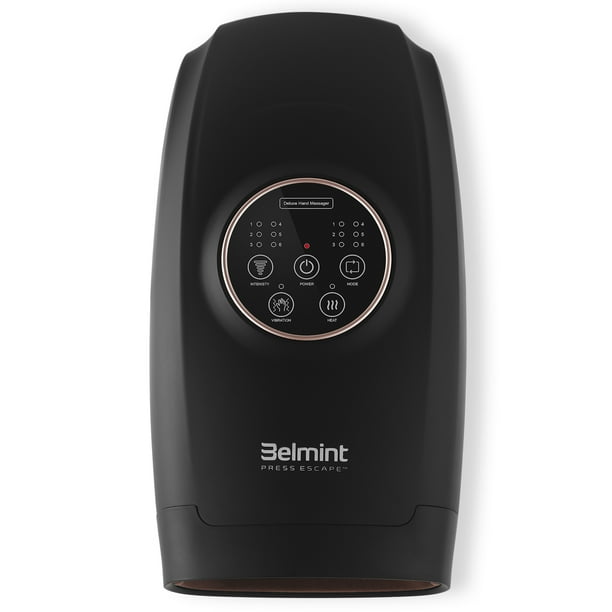 This hand massager has non-slip rubber feet, a comfortable exterior, and plenty of room for a whole hand immersion. You can operate the hand massager with one hand for total relaxation, and it works on any hand size. 
BANG Handheld Deep Tissue Percussion Vibrating Massager
This hand-held hand massager is great for people who also like to massage other body parts including the knee and elbow besides the hand. Yes you may work using your hands all day, but don't forget that arthritis skips other joints in the body. More often than not, arthritis also causes pain and discomfort in the knee, ankles, and elbows.
With the one-hand operation, this hand massager really helps to relieve hand pain by relaxing your hand muscles and allowing blood flow back into sore areas after a hard day on the job. 
How to use a hand massage for hand pain relief without a massage machine:
Here are some tips on hand massaging to maximize the benefit of hand massage for hand pain relief:
1. While seated, rub your hands together until they feel warm.

2. Begin applying a circular motion with moderate pressure to your hand, beginning at your pinky finger and moving gradually up toward your palm and then back down again.
3. Repeat this hand massage technique three times on both hands, starting with your non-dominant hand and followed by your dominant hand. You can do this during a break from work or while watching television or listening to music for 5-ten minutes, depending on how much time you have available in one hand massage session.
4. Now, gently stretch your hand by opening and closing it repeatedly for relaxation.
5. To improve blood circulation in your fingers, gently squeeze them from the fingertips and towards the wrist, one at a time, several times.
For more hand pain relief tips, check out some of our products including hot and cold therapy hand wraps like the one pictured below:

 Take care of your hands: Get a hand massage! 
The hand is a complex structure made up of many small bones, ligaments, muscles, and tendons as well as blood vessels and nerves. Whether you have carpal tunnel, arthritis, or not, it is of utmost importance to keep your hand healthy.
A hand massage may be the perfect way to soothe sore muscles and increase your sense of well-being. It can help with conditions such as arthritis, carpal tunnel syndrome, or neuropathy among others!