7 Best Ice Packs for Injuries - Top Reviews 
Trying to find the best ice packs for injuries can be such a daunting task.  Which is why many of us simply use a drippy ice bag or frozen bag of peas.
But what's better, a bag of frozen veggies or a purpose-driven ice pack? You see, if you want something that will truly work for your specific needs, then what you need is a specially designed ice pack.
Ice packs work best for pain relief as well as to prevent swelling after an injury. They come in different shapes and designs and picking the best out of the numerous brands on the market is usually a tough call.
This is why you need this review of the best ice packs for injuries to help you make the best decision.
But wait, what makes a good ice pack?
Buying Ice Packs for Injuries: What You Should Consider 
You want something that works well and targets your specific situation. It is therefore important that you consider a few things before investing your hard earned money on the next available ice pack.
When it comes to buying the best ice packs, you want something that will
fit nicely
and mold to the area you want it to cover.
Pay attention to the 
material

that the ice pack is made of
. You don't want something that will continue to drip, leak or perspire on you while using it.
Durability
is another important factor.  Reusable ice packs for injuries come to mind. As cheap as these things may be, it's still expected that you'll want good value for your money.
You also have to
consider versatility
. To ensure you're able to treat different injuries properly, you may consider keeping different varieties of ice packs. Fortunately, they are very much
affordable
and won't cost you an arm and leg.
Where to buy?
A lot of people often ask where to buy ice packs for injuries.  Lucky for you, we've reviewed several of the best ice packs sold online.  Many of these type of ice packs are available on sites such as Amazon, Wal-Mart, as well as on the websites of many of the product manufacturers.
Now let's begin diving into our top pics of the best 7 reusable ice packs for injuries you'll find right now on the market;
1.  Hot Cold Gel Packs & Ice Wrap Set by ColePak Comfort (2 Pack)
This ColePak Comfort reusable gel pack and ice wrap ticks all the boxes in the right place and it's a must-have if you need something you can easily use and reuse conveniently.
This set contains
two ice packs and a fleece ice wrap
to protect the skin acting as a barrier to avoid direct skin contact
The ice pack from ColePak Comfort is everything you'll want in a perfect ice pack and recommended for use by physicians, physical therapists, chiropractors, and moms who love their kids.
Can be easily packed for storage and travel
Includes

2 gel packs

and

1 ice wrap

(soft fabric cover)
The gel pack can be used either as a

hot or cold pack
Most

flexible

- easily fit and mold to the area 
CONS
" We bought this ColePak Comfort Ice Pak for my husband who recently had knee replacement surgery. He has been very pleased with the ice pack and it is a great idea to sell them in a pair. While one is in the freezer you can use the other."
Shannon T. - Verified Customer
Great for long relay runs
"I've had a meniscus problem for about eight months and finally went under the knife yesterday. When I injured myself training for a long relay run I bought the colepack. It was great. The packs stayed cold for a long time and the band held tight on my knee. I would ice my knee after every run which post relay was about once a week. Because I'm icing the knee every 20 minutes now I bought a second colepack."
Michael W. - Verified Customer   
2. Hot Cold Reusable Ice Bag by Ohuhu
This Ohuhu ice bag sports a traditional ice bag design and is, in fact, one of the best reusable ice pack for injuries. It's super easy to clean as you'll drain the water out. However, you'll need to fill it up after each use.
PROS
It doesn't leak or perspire, thanks to the innovative design
Fits and mold nicely due to the balance between the weight of the water and the bag's size.
The weight of the bag makes it feel cool and soothing to use.
Well, it will take a bit of time to dry after each use and cleaning
3.  Chattanooga ColPac Cold Therapy Reusable Gel Packs
The Chattanooga ColPac is no doubt a big deal as far as cold therapy is concerned. Along with being perfectly suitable for use in first aid, it is also designed for
heavy clinic use.
  Its effectiveness for pain relief is why it's easily one of the best ice pack choices available today.
PROS
Promises more than thirty minutes of cool soothing relief from pain and swelling
Easily gets cold over and over again
Super flexible and pliable without the gels sliding to one side
CONS
Few people had issues with the size and weight. If you'll be using it over an area that will be sensitive to weight be sure you're going for the right size
4.  Round Reusable Gel Ice Packs Hot or Cold by Icewraps
Aside from sudden injuries, cold therapy can also be used to reduce pain in several other instances. These round reusable gel packs by Icewraps may not be the best for injuries but will easily work as therapy for
headaches
,
sinus relief
,
pulled teeth
, tired eyes, etc.
The package
contains five small packs
which you can easily isolate to the area of intended use. Because of its effectiveness, these gel packs have earned a spot in this review as one of the best ice packs for injuries.
Excellently durable and won't pop or tear easily
Cool and soothing for bites, bruises, or swollen eyes
Can also be used as a hot gel pack by heating in the microwave for ten seconds
CONS
They may not stay cold for a long period
5.  Large Reusable Gel Ice Pack with Ice Wrap by ColePak Comfort
Rounding off our top five list of the best ice packs for injuries is the very impressive Large Gel Ice Pack by ColePak Comfort. By no means the least effective, this ice pack is best known for its
XL size
and its ice wrap to wrap around large areas of the body.
Constructed for daily use and durability.  Contains non-toxic silica gel.  The best feature is the soft fabric ice wrap to insert the large gel pack and acts as a barrier to
prevent direct skin contact
with the ice pack. 
Once again, this ticks the boxes at the right place making it one of the best reusable ice packs for injuries as of today.
PROS
Perfectly sized to fit the back, knee, shoulder, and hip
Soft fabric

ice wrap has double elastic straps to secure gel pack firmly around the treatment area
Gel pack is evenly distributed and is flexible enough to mold to most body parts
Ice pack not made from plastic, but a premium gel pack that is quite durable and never gets to leak
CONS
May need longer extension strap for the ice wrap if wider coverage is needed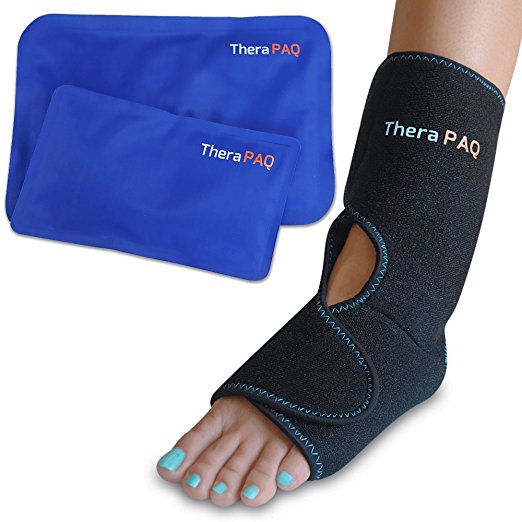 6.  TheraPAQ Foot & Ankle Pain Relief Ice Wrap
To relieve pain and swelling from various foot conditions such as
plantar fasciitis
, sprains,
Achilles' tendon pain
,
heel spurs
, fractured foot, foot surgery, or
foot pain
, the this foot and ankle ice wrap is perfect to reduce swelling and provide soothing relief from for aching feet and ankles.
Made of
breathable neoprene material
with two inside pockets to insert the gel packs. One pocket covers the back of the leg and the other pocket covers the bottom of the foot.
Includes 2 freezable or microwaveable non-toxic gel packs
1 foot wrap to secure with adjustable hook -and-loop straps
Great to use for

swollen feet

Foot ice wrap stays put with light mobility
Does not provide enough coverage for the heel
Size may run small
7.  ColePak Comfort Ice Pack for Knee & Back Ice Pack Combo Pack
Do you suffer from knee pain or back pain?  Are you looking for an ice pack for your knees after having knee surgery? 
This dual combo pack includes a back ice pack and knee ice pack to wrap around your knee or back and stay in place while still walking around.
Targets the area to reduce swelling and provide soothing effect.  Great for 
knee replacements
, back injuries, post surgery,
torn ACL & meniscus
,
runner's knee
, herniated discs, muscle aches, strained muscles, or
sore knees
.
Fully functional to

wrap around your knee

and still walk
Both ice packs stay cold longer
Elastic straps with hook-and-loop fasteners for a secure fit
Stays flexible when frozen
CONS
Does not include a fleece/fabric cover wrap
Should you decide to buy an ice pack soon, you'll find either of the above choices  very effective. However your choice should be based on your type of specific injury to better target the affected area.
Currently, most people appear to favor gel packs that can be used with an ice wrap so that you will be able to walk around while icing.   They love the convenience factor while treating the affected area.  Either way, we hope that our top picks will assist you in deciding which ice packs are best for you!